LEARN KITSAP TRANSIT
Environment
Environmental Sustainability
The transportation sector is one of the largest contributors to greenhouse gas emissions. Kitsap Transit plays an important role in reducing the number of single-occupant vehicles on the road and the pollution they generate in Kitsap County. In 2018, Kitsap Transit carried more than 3.8 million riders across a multi-modal system of bus, ferry, and rideshare services.
Kitsap Transit is committed to environmentally sustainable practices in its own operations. Read on to learn more.
| | | |
| --- | --- | --- |
| | | ​ |
| CO2 Reductions | Energy Consumption | Waste Reduction |
Kitsap Transit's Charleston Base in Bremerton and North Viking Base in Poulsbo have been registered to International Standards Organization (ISO) 14001:2015 for environmental management systems, effective Sept. 14, 2018. The certification is for public transit vehicle staging, fueling, lubrication, washing, maintenance, dispatch and administration support activities.
Effective September 25, 2019, Kitsap Transit's marine operations at Bremerton Transportation Center also were registered to ISO 14001:2015 for environmental management systems. The certification is for public transit vessel fueling, storage and light maintenance activities.
Completion of the certification process ensures that Kitsap Transit is on the forefront of environmental management and meeting or exceeding federal recommendations for environmental sustainability.
Kitsap Transit is one of only a handful of transits on the West Coast and one of roughly 3,000 organizations in the United States that are registered to ISO 14001:2015. See our press release. When Kitsap Transit's Charleston Base received ISO 14001:2004 certification in 2015, it was one of just 15 transit agencies across the country awarded certification.
CO2 reduction
Since 2013, Kitsap Transit has made operational changes that have reduced our carbon-dioxide footprint by more than 7.2 million cubic feet which is equal to 375.5 metric tons (nearly 5 percent decrease overall). The agency achieved this reduction over time with a number of strategies:
Idle time: In 2014 the agency implemented a policy of limit engine idling during the startup of Worker/Driver buses to no more than 10 minutes.
Propane: The agency introduced propane-fueled vehicles to its fleet in 2015. As of June 2019 Kitsap Transit had 35 propane buses and 4 support vehicles.
Electric: The agency put into service its first fully electric bus in 2018 and anticipates putting into service its first hybrid-electric ferry.
Newer buses: Replacing older 35-foot diesel coaches with 29-foot ones with more efficient engines.
A state law effective in June 2018 requires public agencies' fleets to run on electricity, biofuel or other alternative fuels. Kitsap Transit will be using biodiesel to fuel its diesel fleet.
| | | | |
| --- | --- | --- | --- |
| | | ​ | ​​ |
| Hybrid Ferry | Fully Electric Bus | Propane-Powered Buses | More Efficient Diesel Buses |
Electricity Use
In 2013, the Charleston Base used 835,160 kilowatt-hours. Kitsap Transit's electric bill was $76,810. After replacing outdated HVAC units, upgrading to LED lighting, and training staff on practices to conserve energy, Kitsap Transit saw dramatic results: In 2018, the Charleston base used 576,320 kilowatt-hours, a 31 percent decrease; the year's energy bill was $55,145, a 28 percent decrease.
​Solid Waste & Recycling
Kitsap Transit set a goal of increasing its recycling rate and reducing its garbage bill at the Charleston Base. In 2013, the base produced 672 cubic yards of solid waste. In 2017 and 2018, it was 336 cubic yards, 50 percent lower. The facility achieved this by taking away one of two solid waste dumpsters on site and instituting a recycling program: Blue recycle bins were distributed around the facility, and staff received training on recycling of many common waste items:
fuel oil/waste absorbent materials
metals, paper and plastic
bus, automotive and small alkaline batteries
Spill & Stormwater Pollution Prevention
Kitsap Transit set a goal of no petroleum or chemical spills during delivery, storage or dispensing operations. The agency provides operators, maintenance employees and contractors with regular training on spill prevention procedures and rapid-response kits to prevent chemicals and oils from reaching drains at Charleston Base and winding up in waterways where they could harm wildlife.
The agency performs quarterly sampling, color codes stormwater drains on site for easy recognition of pathways, and inspects underground storage tank covers for tightness to ensure no leaks. Kitsap Transit has created standard operation procedures to eliminate stormwater permit violations. The facility has had no spills.
What does ISO 14001 certification mean?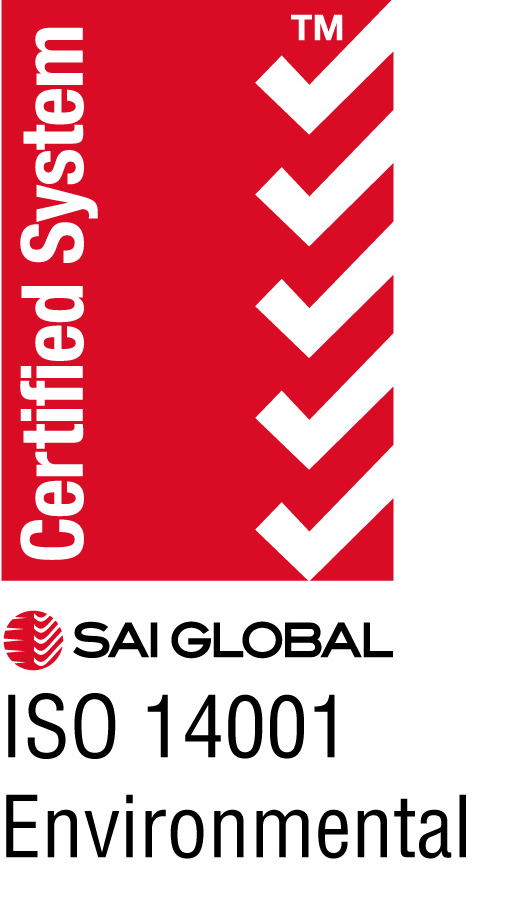 In 2013, Kitsap Transit was selected to participate in a voluntary, two-year Environmental Sustainability Management System (ESMS) training program through Virginia Tech's Center for Organization and Technological Advancement and the Federal Transit Administration. At the time, 38 transit agencies across the United States had been selected for the program. The same year, Kitsap Transit's Board committed to an ESMS by adopting an Environmental Policy.
As part of the certification process, Kitsap Transit developed an environmental policy, identified the environmental aspects that have a significant impact on the environment, and set objectives to manage those aspects. The ISO 14001 standard requires an organization to consider all environmental issues relevant to its operations, such as air pollution, water and sewage issues, waste management, soil contamination, climate change mitigation and adaptation, and resource use and efficiency.
When determining the scope of the environmental management system, the agency also considers the needs of interested parties, compliance obligations, risks, its activities, products and services, and commits to continual improvement; Kitsap Transit has an ESMS coordinator who monitors performance and leads an inter-department work group.
Environmental Policy Elements:

Protect the environment
Prevent pollution
Minimize significant environmental impacts
Environmental awareness and training
Comply with legal requirements

Environmental Aspects:

Chemical control
Spill potential
Fuel consumption

Objectives & Targets:

Spill prevention
Stormwater pollution prevention
Fuel consumption & CO2 reduction
High voltage safety -

NEW

Volatile chemical reaction prevention -

NEW
Kitsap Transit is committed to being a wise steward of the environment in both its activities and any work done by contractors. Starting in 2014, Kitsap Transit asked contractors doing work at its Charleston Base to affirm their commitment to following our recycling and solid waste disposal guidelines.
Since 2016, Kitsap Transit has required all vendors bidding on products or services being purchased by Kitsap Transit to provide documentation of waste-disposal in connection with working on the agency's projects.
The ISO certification standard was revised in 2015. To meet the revised standard, organizations must demonstrate that top leadership has a commitment to envionmental sustainability in business decisions and include interested stakeholders in their decision-making processes. Kitsap Transit met this standard by, among other things, surveying the community about its priorities for protecting the environment.

​